March 2020: Market Indicators Report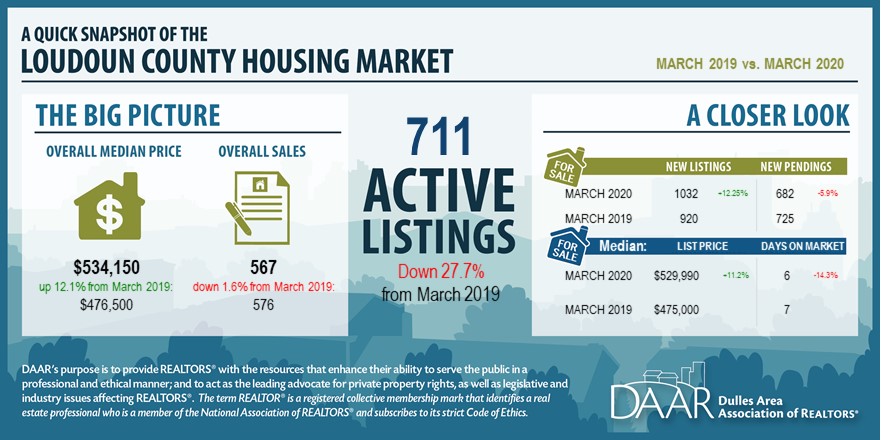 Click here for the full March 2020 Loudoun County Market Indicators Report for the Dulles Area Association of REALTORS® by Virginia REALTORS®.  DAAR has switched to VR as a new provider of the report after much consideration.
Key Market Trends
Sales activity continues to moderate slightly. There were 567 sales of existing homes in Loudoun County in March, 9 fewer than a year ago. Leesburg and northern portions of Sterling had the largest declines in sales activity. While overall sales were lower, sales of townhomes/condos increased.
Pending sales declined; the 3rd drop in the past 4 quarters. Pending sales continue to slow down in Loudoun County. There were 682 pending sales at the end of March, a 5.9% decline from last year. This most recent decline reflects the market uncertainty related to COVID-19.
Amid sluggish sales, home prices are surging. Home prices continue to climb in Loudoun County despite softening sales activity. This is due to strong demand and low inventory available on the market. The median sales price jumped up 12.1% in March to $534,150.
The supply of active listings continues to decline. There were 711 active listings at the end of March in Loudoun County, a 26.3% drop from last year. All local markets in the County had shrinking inventories in March except Lovettsville which had 9 more listings.