Q1 2020: Market Indicators Report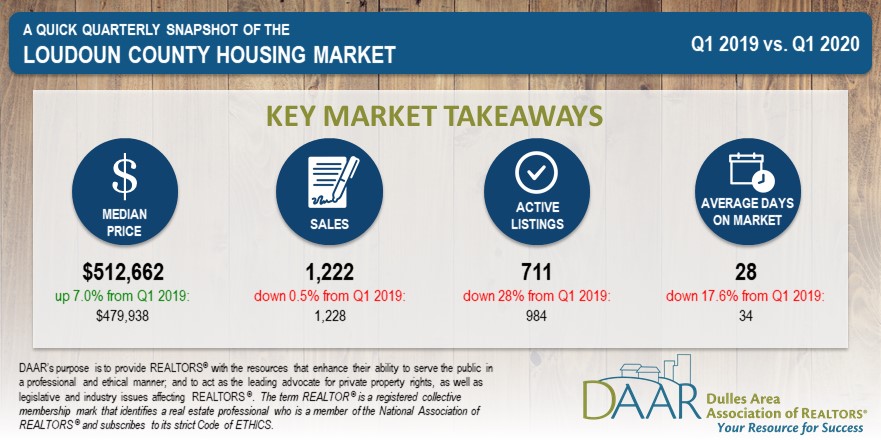 Click here for the full Q1 2020 Loudoun County Market Indicators Report for the Dulles Area Association of REALTORS® by Virginia REALTORS®.  DAAR has switched to VR as a new provider of the report after much consideration.  In addition to receiving the monthly report, DAAR will be pushing out new statistics at the end of each quarter. 
Click here to download supporting graphics.
Key Market Takeaways
Economic Conditions
The Dulles area's economy is strong, with broad-based job growth supporting strong demand for housing.

Like the rest of Virginia and the nation, Loudoun County will be experiencing the economic impacts of COVID-19 this spring.

Consumers' confidence in the economy has been declining somewhat for several months.

Expectations about future economic conditions have become pessimistic in the early spring.

Mortgage rates are still low, but there has been substantial volatility and growing uncertainty in the mortgage market.
Housing Market Conditions
Sales activity slowed down modestly in the 1st quarter in Loudoun County. There were 1,222 sales, 6 fewer than a year ago, representing a 0.5% decline.

Home prices continue to climb in the Loudoun County market. The 1st quarter median sales price rose 7% from last year, to $512,662.

The inventory continues to shrink rapidly in Loudoun County. There were 711 active listings at the end of the 1st quarter, a 28% reduction from a year ago.