April 2020: Market Indicators Report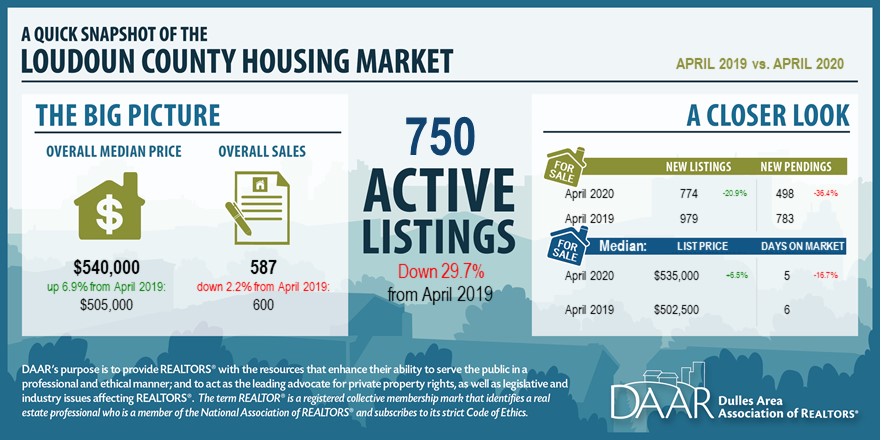 Click here for the full April 2020 Loudoun County Market Indicators Report for the Dulles Area Association of REALTORS® by Virginia REALTORS®.  DAAR has switched to VR as a new provider of the report after much consideration.
Key Market Trends
Sales activity slowed down slightly in April. There were 587 sales in the
Loudoun County housing market in April, 13 fewer sales than last year,
representing a 2.2% drop. This is 2nd decline in sales activity in a row in the County
and reflects the uncertainty in the market from COVID-19.
Largest decrease in pending sales in over 5 years. There were 498 pending
sales in Loudoun County in April, which is 285 fewer pending sales than a year ago,
a 36.4% decline. While pending sales have been slowing down in recent months
(prior to COVID-19), this is by far the largest drop in pending sales in the County in
over 5 years.
Prices continue to rise despite market slowdown. At $540,000 the April median
sales price in the Loudoun County housing market climbed 6.9% from last year, a
gain of $35,000. Home prices have been rising in the County for several years, a
reflection of the tight supply of active listings & strong demand.
The inventory continues to shrink, and new listings declined sharply. The
number of active listings in Loudoun County continues to decline, down 29.7% in
April compared to last year. New listings also declined dramatically in April, falling
20.9% from a year ago, which is 205 fewer listings. This signals that potential
sellers remain cautious during the on-going pandemic.