Q2 2020: Market Indicators Report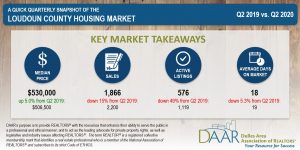 Click here for the full Q2 2020 Loudoun County Market Indicators Report for the Dulles Area Association of REALTORS® by Virginia REALTORS®.  DAAR has switched to VR as a new provider of the report after much consideration.  In addition to receiving the monthly report, DAAR will be pushing out new statistics at the end of each quarter. 
Click here to download supporting graphics.
Key Market Takeaways
Economic Conditions
Like the rest of the Commonwealth, Loudoun County and the greater Northern Virginia region
experienced job losses during the spring. However, there is evidence that the regional economy
is improving as we head into summer.
Consumer confidence in the economy rebounded after plummeting in March and April.
Expectations about future economic conditions have been improving over the past two months.
Record low mortgage rates have driven a refinance boom and have helped sustain the for-sale
market during the COVID-19 pandemic and economic downturn. Low rates will continue
throughout 2020 and into 2021.
Housing Market Conditions
Sales activity slowed in the Loudoun County housing market this quarter as COVID-19 uncertainty
continued through the spring months. There were 1,866 sales in the County during the 2nd quarter,
which is 334 fewer sales than a year ago, a 15% drop.
While there were fewer sales transactions, home prices continue to rise in the County. At $530,000,
the 2nd quarter median sales price in Loudoun County rose 5% from last year.
The shrinking inventory trends have accelerated in the Loudoun County housing market amid the
ongoing pandemic. Similar trends are occurring throughout the State. There were 576 active
listings at the end of the 2nd quarter in Loudoun County, about half the number of listings as a year
ago.

Want to share on your social media pages?
Click a platform below to share!