BOD: Slate of Directors for 2021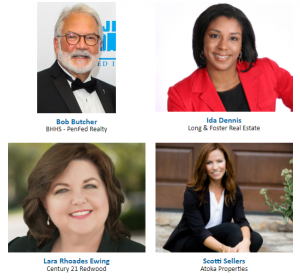 Slate of Directors for 2021 Announced
TO:   All DAAR Members
FROM: Barry Allbright, 2021 Nomination Committee Chair
Barry Taylor, 2020 DAAR President
RE: Slate of Directors for 2021
This memo serves as official notice to the DAAR membership.  Below, you'll find the four 2021-2023 DAAR Board of Director candidates. These individuals have been approved by the 2021 DAAR Nominating Committee and will be confirmed at the DAAR Annual Meeting & Conference on September 10, 2020 by online member voting. You must attend the event in order to vote.  
The slate of directors are:
Robert Butcher, BHHS – PenFed Realty
Ida Dennis, Long & Foster Real Estate
Lara Rhoades Ewing, Century 21 Redwood Realty
Scotti Sellers, Atoka Properties
The following individuals are continuing in unexpired terms:
Nancy Pav, Century 21 Redwood Realty, 2021 President
Barry Taylor, Weichert REALTORS®, 2021 Immediate Past President
Rich Blessing, Weichert REALTORS®
Angie Bresnahan, Keller Williams Loudon Gateway
Meg Burke, RE/MAX Premier
Lou Cironi, Evergreen Ridge Realty
Kyle Crawford, Century 21 New Millennium
Teresa Gentry, The Myer Group at Merrill Lynch
Chrissie Goodrum, Hunt Country Sotheby's International
Lisa Jalufka, Century 21 New Millennium
Allan Marteney, Hunt Country Sotheby's International
Judy McHenry, Century 21 Redwood Realty
Ray Rees, Keller Williams Realty
The DAAR Bylaws state as follows: Article XI, Section 4 (a) …The report of the Nominating Committee shall be noticed to each Member eligible to vote at least three (3) weeks preceding the election. Additional candidates for the offices to be filled may be placed in nomination by petition signed by at least 10% of the REALTOR® Members eligible to vote. The petition shall be filed with the CEO at least two (2) weeks before the election. The CEO shall send notice of such additional nominations to all Members eligible to vote before the election.
Our special thanks go out to the members of the committee for their diligent work:
Barry Allbright, Keller Williams Realty (Chairman)
Kelly Gaitten, BHHS – PenFed Realty
Tanya Spotts, Long and Foster Real Estate
Sue Puleo, BHHS – PenFed Realty
Whitney Engstrom, Weichert REALTORS®
Kathy Jones, Long and Foster Real Estate
Amy Sikora, Weichert REALTORS®
Meg Burke, RE/MAX Premier
Lisa Jalufka, Century 21 New Millennium