July 2020: Market Indicators Report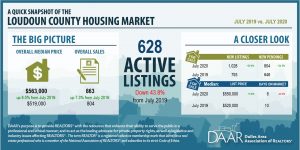 Click here for the full July 2020 Loudoun County Market Indicators Report or the Dulles Area Association of REALTORS® by Virginia REALTORS®.  DAAR has switched to VR as a new provider of the report after much consideration.
Key Market Trends
Sales activity rebounded in July after 4 sluggish months.
The summer market is picking up steam in Loudoun County. There were 863 sales in July, a 7.3% increase from a year ago, a gain of 59 sales. This is the 1st sign of sales growth in the County since February.
Pending sales are surging in the County, reflecting pent-up demand.
For the 2nd month in a row, pending sales in Loudoun County are rising fast. There were 804 pending sales in July, a 24.5% jump from last year. Nearly all of the additional pending sales are in the single-family detached market.
Home prices continue to rise in Loudoun, driven by very low supply.
The July median sales price in the County was $562,980, which is an 8.5% gain from last year. The tight inventory continues to put upward pressure on home prices in the County, particularly in the single-family detached market, where the median price jumped 11.5% from last July, the sharpest gain in over 6 years.
Overall active listings are falling sharply; however, new listings are on the rise.
There were 628 active listings on the market in Loudoun County at the end of July, a 43.8% drop from last year. For the 2nd month in a row there was a spike in new listings. If the trend holds, it could help to alleviate the supply shortage over time.

Want to share on your social media pages?
Click a platform below to share!