DAAR's 2020 Annual Meeting & Conference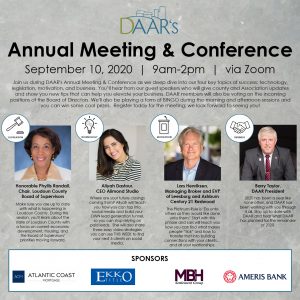 Join us during DAAR's Annual Meeting & Conference (Sept 10, 2020 – 9am-2pm) as we deep dive into our four key topics of success: legislation, technology, motivation, and business. You'll hear from our guest speakers who will give county and Association updates and show you new tips that can help you elevate your business. DAAR members will also be voting on the incoming positions of the Board of Directors. We'll also be playing a form of BINGO during the morning and afternoon sessions and you can win some cool prizes.  Register today for the meeting; we look forward to seeing you!
Speakers:
Honorable Phyllis Randall, Chair, Loudoun County Board of Supervisors
Phyllis J. Randall was elected Chair At-Large of the Loudoun County Board of Supervisors in November 2015 and reelected in November 2019.  Her election was historic as she became the first woman of color in Virginia's history to be an elected chair of a county Board.  As Loudoun's Chair At-Large, she represents Loudoun on various regional, state and national bodies.  Here's how:
Serving as Chair of the Virginia Association of Counties Health and Human Resources sub-committee

Chair of the Northern Virginia Transportation Authority

President of the Washington Metropolitan Council of Governments (COG)

Member of the COG Human Services and Public Safety Policy Committee and the COG Regional Forward Coalition

Member of the National Association of Counties Health and Human Resources Committee
Below are a few key highlights from Chair Randall's career:
Selected as one of only twenty-five women in the country to be included in the 2019 class of Governing Magazine's Women in Government Leadership Program

voted Favorite Public Official by citizens of Loudoun County in 2018

Served as Chair of Virginia's Fair Housing Board under Governors Tim Kaine and Bob McDonnell

Served as Chair of Virginia's State Board of Corrections under Governor Terry McAuliffe
By profession, Chair Randall is a mental health therapist, working with substance abusing offenders in a local adult detention center, a position she enjoyed for over fifteen years. 
Aliyah Dastour, CEO Alimond Studio
Aliyah Dastour is a true marketer at heart, obsessed with all things automation, storytelling, and media that help connect people.  She first started her professional journey as a headshot photographer where she perfected the art of capturing her client's personality in the form of their headshot.
Her attention turned towards personality focused videos for REALTORS®.  Serving over 2,500 real estate agents, this is what she learned from her work:
There is a true system in extracting and developing each person's brand

Capturing each person in a way that allows them to stand out in the market

Building a brand around their personality while looking approachable and professional
Launching her business and community outreach:
Alimond Studio

is now rated as one of the best photography/videography studios in Northern Virginia

Loudoun100 Project

– a passion project that recognized 100 people in Loudoun who were making a positive impact on the community.  This grew to a regular event, held every other year, showcasing ordinary people with extraordinary stories.

Recently developed the Real Estate Agent Marketing System that allows agents to become omnipresent online
Aliyah has managed to build a foolproof framework around content marketing that is relevant and useful for her business and her audience. And here's the secret: YOU can do it, too.
Lars Henriksen, Managing Broker and EVP of the Leesburg and Ashburn Century 21 Redwood
As the Managing Broker of Century 21 Redwood's Ashburn and Leesburg offices, Lars Henriksen leads those offices with over 30 years of local Real Estate experience. Training and career development are the foundations of his philosophy in helping the highly professional sales associates develop their skills.
Lars has been a DAAR member since 2012 and been involved in many aspects of the Association.  
2016 DAAR President

2016 DAAR's REALTOR® of the Year

Director of Membership, REALTORS® Political Action Committee (RPAC) Chair and as a member of the Events Committee
In 2018, Loudoun County Board of Supervisors commended Lars as a member of the Envision Loudoun Stakeholders Committee for their hard work and dedication to drafting the Loudoun 2040 Comprehensive Plan.  
Check out the Platinum Rule Assessment before end of day Wednesday (9/9/2020)!  Submit it to info@dullesarea.com.
Barry Taylor, DAAR President
Barry Taylor has been a REALTOR® since 2012, but before that he served in the British Army for 32 years and is a decorated U.K. military veteran, has managed a Counter Terrorist company.
During his time as a REALTOR® he has obtained his Brokers License, achieved a number of designations, managed a company Real Estate office, served on almost every committee at DAAR as well as the Board of Directors. And he is currently DAAR's 2020 DAAR President.
SPONSORS
Atlantic Coast Mortgage
Ekko Title
MBH Settlement Group
Ameris Bank