At Home With Diversity (AHWD) Certification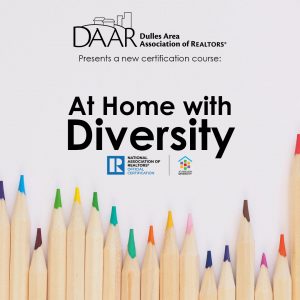 Expand Your Business and Horizons with the At Home With Diversity (AHWD) Certification
Cultivating Multicultural Relations is Good for Business!
REALTORS® know the importance of adapting and remaining relevant in today's marketplace. By developing a business practice rooted in inclusion and equality, you can help buyers of all cultural backgrounds achieve the dream of homeownership.  The At Home With Diversity® (AHWD) certification course teaches you how to work effectively with diverse populations so you can build business success in today's multicultural real estate market.
Registration Information
Date/Time:  November 2, 2020  |  8:30a.m.-5:00p.m.
Location:  Virtual
Cost:
Early-Bird (Through October 18, 2020)
Members: $90 | Non-Members: $100
Registration (After October 18, 2020)
Members: $99 | Non-Members: $109
Instructor:
Matthew Rathbun

Any questions? Please contact Beth Fischel, Professional Development Director, at bfischel@dullesarea.com or 571-291-9805.