September 2020: Market Indicators Report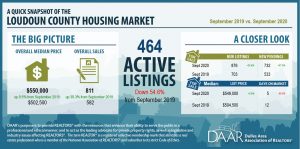 Click here for the full September 2020 Loudoun County Market Indicators Report for the Dulles Area Association of REALTORS® by Virginia REALTORS®.  DAAR has switched to VR as a new provider of the report after much consideration.
Key Market Trends
September housing surge; sales activity in Loudoun County continues to increase, largest gain of any month in more than 6 years.
There were 811 sales in Loudoun County in September, jumping 39.3% from last year, an increase of 229 sales. Both the single-family detached and townhome / condo markets are expanding, with 189 and 40 more sales respectively.
Pending sales are on the rise; busy fall market underway.
Following a slow spring, buyers have been more active in the Loudoun housing market since June. There were 732 pending sales in September, a 37.3% increase from last year. The recent surge in pending sales reflects buyers who likely paused home searches during the early months of the on-going pandemic.
Strong price growth continues in the County's housing market; September median sales price now $100,000+ higher than 4 years ago.
At $550,000, the September median sales price in Loudoun County increased 9.5% from a year ago. The September median sales price of single-family detached homes climbed 9.2%. Median prices for townhomes and condos rose 9.4% this month compared to last year.
Inventory levels continue to plummet; new listings on the rise, but not enough alleviate the supply shortage.
At the end of September, the inventory of active listings in Loudoun County was less than half the level it was a year ago (-54.6%). New listings on the other hand rose for the 4th straight month (+24.6%). There was less than 1 month of supply in September.

Want to share on your social media pages?
Click a platform below to share!