Short Sales and Foreclosures (SFR®)— The New "Traditional" Transaction
Short Sales and Foreclosures —The New "Traditional" Transaction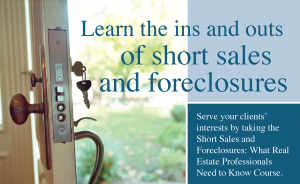 For many real estate professionals, short sales and foreclosures are the new "traditional" real estate transaction. Knowing how to help sellers maneuver the complexities of short sales as well as help buyers pursue short sale and foreclosure opportunities are not merely good skills to have in today's market—they are critical. And while short sales and foreclosures are not for the faint of heart, agents with the proper tools and training can use these specialty areas to build their business for the long term.
Don't Go It Alone — Choose SFR®
Designed for real estate professionals at all experience levels, the National Association of REALTORS® (NAR) Short Sales and Foreclosure Resource certification gives you a framework for understanding how to:
Direct distressed sellers to finance, tax, and legal professionals

Qualify sellers for short sales

Develop a short-sale package

Tap into buyer demand

 Safeguard your commission

Limit risk

Protect buyers
As many agents can attest, your ability to close short sales and foreclosures depends in part on your confidence in seeing these transactions through. Begin building your confidence today with SFR®!


Registration Information
Date/Time:
November 16, 2020
8:30a.m.-5:00p.m.
Location:
Virtual
Cost:
Early-Bird (Through November 2, 2020)
Members: $99 | Non-Members: $109
Registration (After November 2, 2020)
Members: $109 | Non-Members: $119
How to Register:
By phone: 703-777-2468
Instructor:
Michael & Rebecca Straley
Any questions? Please contact Beth Fischel, Professional Development Director, at bfischel@dullesarea.com or 571-291-9805.