October 2020: Market Indicators Report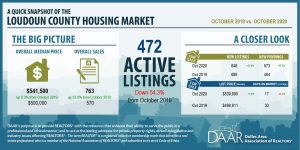 Click here for the full October 2020 Loudoun County Market Indicators Report for the Dulles Area Association of REALTORS® by Virginia REALTORS®.  DAAR has switched to VR as a new provider of the report after much consideration.
Key Market Trends
Home sales continue to surge in the Loudoun County market, largely driven by pent-up demand from the spring.
There were 763 sales in Loudoun County in October, jumping up 33.9% from a year ago, an increase of 193 sales. The sales growth is widespread in the County, however in the local markets, sales activity in Leesburg (zip code 20175) and Ashburn (zip code 20148) was notably strong this month surging 68.9% and 69.9% respectively.
Pending sales are mounting; strong demand in the single-family detached market.
There were 673 pending sales in October in Loudoun County, 179 more than last year, a 36.2% spike. Most of the additional pending sales are single-family detached homes which surged up 40.6% from last year.
Home prices are climbing steadily, reflecting tight inventory and surge of active buyers in the market.
At $541,500, the October median sales price in Loudoun County is $41,500 higher than it was a year ago, representing an 8.3% increase. The median sales price in Sterling (zip code 20165) jumped up by $83,750. Price growth was also strong in Leesburg (zip code 20176) where the median price rose by $82,500 from a year ago.
New listings continue to grow, but overall supply in the market remains very low.
There continues to be less than 1 month of supply in the Loudoun County housing market. At the end of October, there were just 472 active listings in the County, less than half (-54.3%) the supply level last year. For the 5th straight month, new listings rose, up 23.6% from a year ago.