December 2020: Market Indicators Report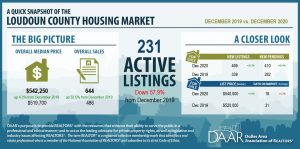 Click here for the full December 2020 Loudoun County Market Indicators Report for the Dulles Area Association of REALTORS® by Virginia REALTORS®.  
Key Market Trends
Loudoun County housing market strong through December, sales surging in most local areas.
There were 644 sales in December in the County, 158 more than last year (+32.5%). The strongest growth occurred in Chantilly (zip code 20152) where sales doubled from last December (+100.0%). Purcellville (zip code 20132) was the only local market to have a drop in sales this month (-12.5%).
Pending sales continue to rise in the County, 7th consecutive month of growth.
There were 410 pending sales in Loudoun County in December, a 45.4% jump from last year. Sterling (zip code 20164) and Ashburn (zip code 20148) had strong pending sales growth this month, up 125.0% and 50.0% respectively. Pending sale sin Lovettsville (zip code 20180) declined 80.0%.
Home prices continue to climb in many parts of the County as inventory dries up and buyers remain active.
The December median sales price in Loudoun County was $542,250, which is $22,550 higher than last year, a 4.3% increase. Notably, the median sales price was about $100,000 higher this month in both Ashburn (zip code 20148) and Leesburg (zip code 20176) compared to a year ago.

Active listings continue to shrink rapidly in the Loudoun County market.
There were only 231 active listings on the market in the County at the end of December, a reduction of 318 listings from last year (-57.9%).