Q4 2020: Market Indicators Report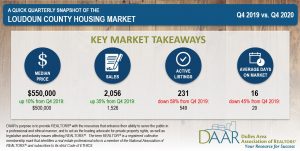 Click here for the full Q4 2020 Loudoun County Market Indicators Report for the Dulles Area Association of REALTORS® by Virginia REALTORS®. 
Click here to download supporting graphics.
Key Market Takeaways
Economic Conditions
In the 4th quarter of 2020, economic conditions continued to improve in Virginia, as well as in the Dulles area and Northern Virginia region. There have been steady gains in employment and a consistent decline in the unemployment rate since the summer.

Consumer confidence dropped in December, reflecting uncertain political and economic conditions at the end of 2020.

Mortgage rates remained at historically low levels throughout the 4th quarter, fueling strong home sales activity.
Housing Market Conditions
Loudoun County had its largest quarterly increase in sales in more than 5 years. There were 2,056 sales in the County during the 4th quarter, a 35% surge from last year.

At $550,000, the 4th quarter median sales price in Loudoun County jumped up 10% from last year, a gain of $50,000. This is the largest median price increase the County has had in more than 5 years.

The supply of active listings in the County is very low and is getting smaller. There were just 231 active listings in Loudoun County at the end of the 4th quarter, a 58% reduction from last year.