January 2021: Market Indicators Report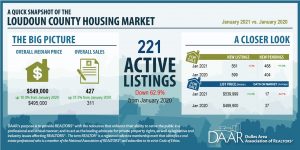 Click here for the full January 2021 Loudoun County Market Indicators Report for the Dulles Area Association of REALTORS® by Virginia REALTORS®.  
Key Market Trends
Home sales continue to surge in Loudoun County, 7th straight month of market growth.
The Loudoun County housing market had a strong start to 2021. There were 427 sales in January, a 37.3% increase from last year, a gain of 116 sales. Most local markets continue to experience sales growth. Sales in Chantilly (zip code 20152) more than tripled from last year (+236.4%). Sales were also strong in Ashburn (zip code 20147), up 57.1% from last year.

Pending sales continue to mount, signaling busy months ahead in Loudoun market.
There were 468 pending sales in Loudoun County in January, up 15.8% from last year. Most of the additional pending sales were in Chantilly zip code 20152 (+138.1%), Sterling zip code 20164 (+54.5%), and Ashburn zip code 20148 (+33.3%).

January median sales price in the County $54K higher than last year.
At $549,000, the January median sales price in Loudoun County rose 10.9% from last year. Prices are climbing in most local areas as market activity remains busy. Leesburg (zip code 20176) had the largest median price growth, up $235,000 from last year to $650,000. Prices in Ashburn zip code 20147 were relatively flat this month, inching down $3,000 from a year ago.
Inventory remains tight in Loudoun County; new listings dropped for the first time since last spring.
There were just 221 active listings in the County at the end of January, down 62.9% from a year ago. New listings declined by 6.3% from January of last year, which is 38 fewer new listings.