Instructor Development Day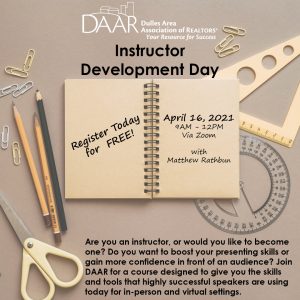 The Real Estate Industry is filled with the voices of instructors who can carry a tune, but very few who have the ability to build a following, be sought after and to consistently deliver what their audiences are looking for. Now with the clear necessity of virtual classrooms, the instructors have a new set of skills they need to hone in order to deliver a kickass presentation.   The Rockstar Presenting session is designed to give you the skills and tools that highly successful speakers are using to prepare an unprepared industry for the changes that are coming, the demands the learners have today, and the ability to evolve with the world.  Teaching in a classroom and teaching online are two very different platforms.  This session explores the tools, resources, and understanding of the learner necessary to deliver an exceptional learning experience online, but also gives the you tips that relate and can be used in-person teaching.  
Join DAAR and Matthew Rathbun in this exciting new experience for instructors, want-to-be instructors, and people who are looking to boost their presentation skills!  Register today – it's FREE!
April 16, 2021
9AM – 12PM
Via Zoom

NO-SHOW POLICY
Any registered person that does not attend and does not notify DAAR within 48 hours of the class, will receive a non-negotiable, No-Show Fee of $20.00.