2020 DAAR REALTOR® Awards Event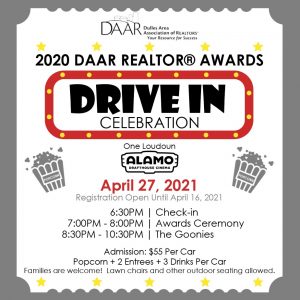 Get ready for a night at the DRIVE IN!
DAAR is excited to announce that this year, we are hosting the 2020 REALTOR® Awards at the One Loudoun Alamo Drive In!  Join us for the night as we celebrate the nominees and winners in socially distanced, retro style!
Registration is open until April 16, 2021.  

EVENT DETAILS
Date: April 27, 2021
Location: One Loudoun Alamo Draft House, Drive In Lot
Admission price per vehicle: $55
Check-in: 6:30PM
Ceremony: 7:00PM – 8:00PM
Intermission
The Goonies start time: 8:30PM
Included in your price of admission (per vehicle):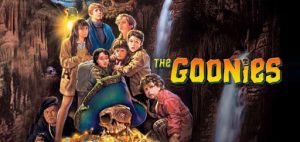 Popcorn

2 entrée options from a special Alamo Draft House menu

3 soft drinks

Event Program

Goonies movie event 
Awards nominees will have preferred parking.
Items you are encouraged to bring with you:
Your family!  Families are welcome!

Lawn chairs and outdoor seating

Portable radios
CANCELLATION AND REFUND POLICY
Cancellation requests (written or phoned) will be accepted through 4:30 p.m. on April 16, 2021.  All paid fees will be refunded.  No refunds will be given for cancellations made after the close of business on Friday, April 16, 2021.
Guests can stay for the movie as it is included in your registration fee. If your vehicle is opting out of the movie portion of the evening, you will have time during the intermission to exit the drive in. Guests who opt out of the movie experience will not be refunded ANY amount of their registration fee.