At Home With Diversity (AHWD) Certification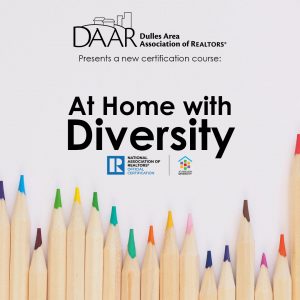 Expand Your Business and Horizons with the At Home With Diversity (AHWD) Certification
Cultivating Multicultural Relations is Good for Business!

REALTORS® know the importance of adapting and remaining relevant in today's marketplace. By developing a business practice rooted in inclusion and equality, you can help buyers of all
 cultural backgrounds achieve the dream of homeownership.  The At Home With Diversity® (AHWD) certification course teaches you how to work effectively with diverse populations so you can build business success in today's multicultural real estate market.
Certification Take-A-Ways:
Develop an increased awareness of cultural and personal biases that may inhibit you from fully embracing diversity and creating a successful multicultural real estate business.

Learn inclusive, multi-cultural marketing and advertising strategies to broaden your client base.

Formulate an inclusive business plan to help you create an enduring business that can adapt and evolve to an ever-changing marketplace.
Date/Time:  April 22, 2021  |  8:30a.m.-5:00p.m.
Cost: $15.00
FREE for the first 40 people who register – hurry and register today!
Location:  Virtual
Instructor:
Matthew Rathbun

NO-SHOW POLICY
Any registered person that does not attend and does not notify DAAR within 48 hours of the class, will receive a non-negotiable, No-Show Fee of $20.00.
Questions?  Email education@dullesarea.com.
MEMBER TESTIMONIALS
Meg Burke, Associate Broker Realtor
I think the "At Home with Diversity" class is definitely worth your time.  It helps all of us, no matter what our race, ethnicity, faith, nationality, or economic background is, to be more aware of how our words and actions can be interpreted by others in ways we might not intend.  As Realtors, we certainly want all our clients to feel respected and appreciated; this class is a great tool to help us to do that!  I take a lot(!) of classes and I think Matthew Rathbun is one of the best instructors around. He's an active Realtor in NOVA. so he knows exactly what we deal with every day.  Great at keeping things interesting & relatable (even in virtual classes!), Matthew often has extra tips and apps to recommend. He's great at addressing our questions too!