Loudoun County Board Reverses Goose Creek Development Decision
In a 6-2-1 vote, the 238-unit development proposal was reversed amid conservation and environmental concerns.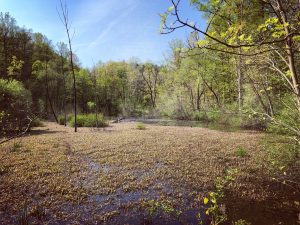 On Tuesday, March 16th, the Board of Supervisors reversed their initial approval of the Goose Creek Overlook Development by a vote of 6-2-1, with one supervisor abstaining. The project, which was approved on March 2nd, has now been denied amid rising environmental concerns. 
A core component of the development was its proposed allotment of affordable housing units (ADUs). In total, 75 of the proposed 238 homes would have been price-controlled units. Among the rest, 123 were to be townhouses and 40 were set to become two-over-two stacked residential units; all of which would have been located near Goose Creek and the Sycolin Road Bridge.  
The two supervisors who voted both times to approve the development cited their unwavering commitment to bringing more affordable housing to the county. Though, while their Board colleagues often share the same commitment, the seven supervisors who voted "nay" on the development cited environmental concerns as well as a perceived lack of appropriateness/fit for the Goose Creek neighborhood.  
Residents of Loudoun County primarily voiced their concerns through their support of a Change.org petition, which garnered over 4,500 signatures at the time of the Board vote. With 3,000 signatures coming from locals/residents of the area, the effort proved to be successful as the Board denied the application by a larger margin than their initial 5-4 approval vote.  
As of now, it is uncertain as to whether the reversal will affect potential business partnerships with the county in the future. However, at a time when public-private partnerships are critical for successfully meeting affordable housing needs, it is important for all parties to promote transparency and work in the community's best interest throughout the negotiation process.  
For questions, reach out to DAAR's Government Affairs Director. 
3/22/2021