April 2021: Market Indicators Report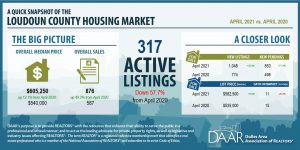 Click here for the full April 2021 Loudoun County Market Indicators Report for the Dulles Area Association of REALTORS® by Virginia REALTORS®.  
Key Market Trends
Home sales continue to surge throughout much of Loudoun County.
There were 876 sales in the Loudoun County in April, a 49.2% spike in activity from last year, which is an additional 289 sales. Last April, the housing market slowed down considerably as stay-at-home orders were put in place to slow the spread of COVID-19; therefore, it is not surprising that sales this month significantly outpaced last year. However, April 2021 sales are much higher than even non-pandemic years. For example, sales this month are 46.0% higher than April 2019. The strongest sales growth this month occurred in Ashburn zip code 20148 (+88.3%), Sterling zip code
20164 (+81.8%), and Ashburn zip code 20147 (+78.8%).
Pending sales are on the rise in most local markets.
There were 853 pending sales in Loudoun County at the end of April, a 71.3% surge from a year ago, which is an additional 355 pending sales. Similar to sales, pending sales activity a year ago was impacted significantly by COVID-19, which means the April 2020 pending sales numbers are lower than a typical April. Pending sales this month are 8.9% higher than they were in April 2019, which indicates the county's housing market has not only rebounded in a big way since the onset pandemic but is also stronger than pre-pandemic levels.
Sales prices are rising sharply in the county as the market remains very competitive.
The April median sales price in the county was $605,250, up 12.1% from last year, which is a gain of $62,250. Leesburg (zip code 20175) and Chantilly (zip code 20152) had the sharpest median sales price growth in April, rising 28.4% and 15.1%, respectively, compared to last year. Sterling (zip code 20164) was the only local area to have a modest drop in median price, slipping 2.0% from last year.

Want to share on your social media pages?
Click a platform below to share!