DAAR Dues Invoice Coming Soon
A Letter from our 2021 President, Nancy Pav
Dear DAAR Members,
My name is Nancy Pav and I am proud to be serving as your 2021 Dulles Area Association of REALTORS® (DAAR) President.  In September 2020, DAAR members voted to approve the recent switch in membership billing from a calendar year to a fiscal year, July 1 – June 30.  Moving forward, each year in June, you will receive your invoice for your Local, State, and National REALTOR® Membership dues.  Payment will be due July 31 on an annual basis.
Many things have changed throughout the last year, but DAAR's commitment to REALTORS® and our success remains unwavering. DAAR provides many benefits to your business and I'd like to highlight a few of the Association's areas of focus for you to consider as you prepare to renew your membership.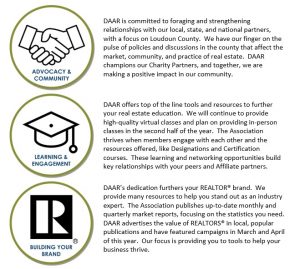 As a member of DAAR you are part of a community of over 1,300 REALTORS® who share your dedication and commitment to our industry.  Thank you for being a member of DAAR. 
I want to encourage you to reach out to me with questions or suggestions at president@dullesarea.com.
Sincerely,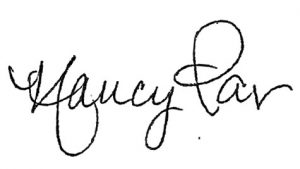 Nancy Pav
2021 DAAR President