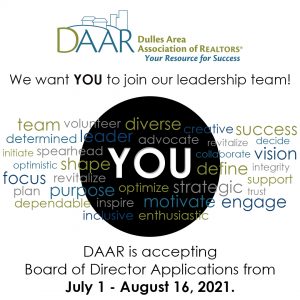 DAAR is seeking candidates to become part of our 2022 Board of Directors. As a part of DAAR's leadership, you help to strengthen our Association and lead DAAR into the future.
Serving your Association as a Director includes:
Developing valuable skills in leadership, governance, industry relations, and strategic planning

Decision making and problem solving

Expanding your professional reach and network

Growing the value of your membership
Requirements:
Must have been a DAAR members for at least two years. See full list of requirements.
Commitment:
REALTOR® Seats – three-year term

Affiliate Seat – two-year term

All Seats: Attendance at Board meetings, trainings (3 per year), and DAAR events
Board Meetings:
January

March

May

July

September

November
Accepting Applications:

Process:
After the application deadline, candidates will be contacted to schedule an interview.

Nominating Committee will interview candidates on Wednesday, September 8, 2021.

Nominating Committee will forward recommendations to the Board of Directors

Board will review and provide notification of the recommended candidates to the membership in advance of the Annual Meeting.

DAAR membership will vote on the recommendations during DAAR's Annual Meeting on October 20, 2021 at 9:00am.
Meet Your Current Board of Directors

Questions about becoming a Director?
Contact DAAR's CEO, Amanda Brewer or DAAR's 2021 President, Nancy Pav.