June 2021: Market Indicators Report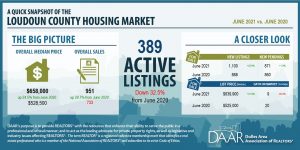 Click here for the full June 2021 Loudoun County Market Indicators Report for the Dulles Area Association of REALTORS® by Virginia REALTORS®.  
Key Market Trends
Sales continue to outpace pre-pandemic levels in most parts of the county.
There were 951 total sales in Loudoun County in June, a 29.7% spike from a year ago, and 17.3% higher than June of 2019. Following a major slowdown during the onset of the pandemic last spring, activity in the county's housing market has been rising sharply for 12 straight months. Nearly all local markets in the county had more sales this month than a year ago. The strongest sales growth occurred in Sterling zip code 20165 (+85.1%), and Leesburg zip code 20176 (+50.6%). Sales declined this month in Purcellville zip code 20132 (-15.0%) and Aldie zip code 20105 (-6.4%).

Pending sales were flat in June, which could signal potential slowdown this summer.
There were 871 pending sales in Loudoun County in June, just 11 more than a year ago, a modest 1.3% increase. Other than a small decline in February, pending sales activity in the county has been surging consistently over the past year until now. The sluggish pending sales in June could signal a changing pattern in the coming months. At the local level, the most notable slowdowns occurred in Leesburg zip code 20175 (-23.0%) and Aldie zip code 20105 (-15.6%).

Prices are soaring in the Loudoun housing market; median sales price nearly $130K higher than last June.
The June median sales price in the county was $658,000, a 24.5% spike from a year ago, a gain of $129,500. All local markets are experiencing significant price gains. The sharpest price growth occurred in Leesburg zip code 20175 (+38.7%).
New listings continue to outpace last year; however, inventory still very low.
At the end of June there were only 389 active listings in the county, a reduction of 187 listings from a year ago (-32.5%). While the overall supply is tight, the number of new listings rose for the third straight month (+23.9%).