Q2 2021: Market Indicators Report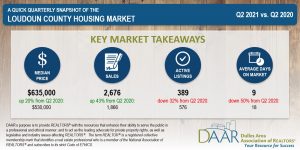 Click here for the full Q2 2021 Loudoun County Market Indicators Report for the Dulles Area Association of REALTORS® by Virginia REALTORS®. 
Click here to download supporting graphics.
Key Market Takeaways
Economic Conditions
In the second quarter of 2021, economic growth continued to expand both statewide and in the Dulles region. The unemployment rate is still falling, though the pace of job growth slowed a bit in May.

Consumer confidence is up strongly in the second quarter, reflecting optimism about the economy and pent-up consumer demand.

Mortgage rates have settled back to around 3% and likely will remain below 3.5% for the rest of the year.
Housing Market Conditions
There were 2,676 homes sold in Loudoun County during the second quarter, a 43% increase from last year.

Home prices are rising rapidly throughout the county. The second quarter median sales price was $635,000, which is 20% higher than a year ago, a gain of $105,000.

The supply of homes for sale in Loudoun County continues to shrink rapidly. There were just 389 active listings in the county at the end of the second quarter, 32% fewer listings than this time last year.

Want to share on your social media pages?
Click a platform below to share!