Loudoun County to Study Building Accessibility for People with Disabilities
Among those present, the Board of Supervisors (BOS) voted unanimously to direct the Disability Services Board to review the accessibility of government buildings in a 8-0-1 vote.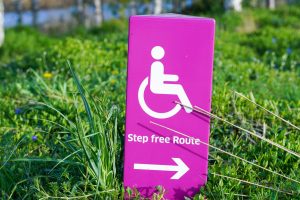 On September 8, 2021, the Loudoun County Board of Supervisors voted (8-0-1) to study the county government buildings through an accessibility lens. Namely, these buildings are the Loudoun County Government Center and Shenandoah Building in Leesburg, as well as the Ridgetop Building in Sterling. While these premises are required under the Americans with Disabilities Act (ADA) to meet certain accessibility mandates, the Board has requested recommended improvements.
According to the recommendation, BOS Chair Phyllis Randall (At Large) and Supervisor Sylvia Glass (Broad Run) have come to understand the difficulty some may face while navigating the Loudoun County Government Center if they are using a mobility aide. The double door access to the building restrooms and ramp access to the parking garage elevator are among the primary areas of focus.
While the County's buildings are all ADA compliant, the Disability Services Board will be tasked with reviewing the three main county facilities to determine if alterations can be made to improve accesses. At this time, there are not yet any estimates for how the improvements would cost. 
For more information on compliance with the Americans with Disabilities Act, click here. 
For questions, reach out to DAAR's Government Affairs Director.
For more advocacy and legislative news, please visit DAAR's In The News page. 
October 4, 2021