DAAR Diversity Open House 2021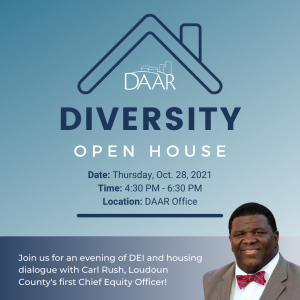 Save The Date!
Date: Thursday, October 28, 2021
Time: 4:30 PM – 6:30 PM
Location: 21720 Red Rum Dr., Ashburn, VA 20147 (DAAR office)
Cost: Free


Event Overview:

Join Carl Rush, Loudoun County's first Chief Equity Officer, for a conversation on diversity, equity, and inclusion (DEI) and housing at DAAR's Diversity Open House event! He will be joined by his colleagues, including Sarah Coyle Etro, AICP, from the Loudoun County Office of Housing for this impactful discussion.
Learn about Carl's journey to Loudoun, his vision for the area, and where he sees local organizations (such as DAAR) playing a role in the advancement of DEI efforts throughout the housing/real estate industry. An overview of the Unmet Housing Needs Strategic Plan will also be presented! Registration is open to members and peer associations.

About the Speakers:
Carl A. Rush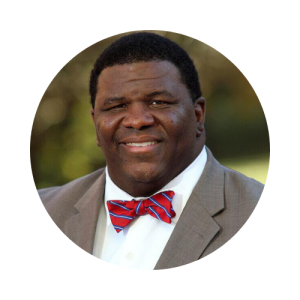 Carl A. Rush was appointed as Loudoun County Government's first Chief Equity Officer on July 8, 2021. In his role, Rush will work to ensure each member of the community has full opportunity to thrive, as diversity is vital to addressing issues such as community safety, access to health and human services, education, equal employment, and affordable housing.
As chief equity officer, Rush oversees the development, design, coordination and implementation of programs, policies and practices aimed at making the county organization and community more equitable. He works with stakeholders within the county government and in the community in support of the county's equity goals, including identifying and eliminating any institutional policies and practices that perpetuate or bring about racial and social disparities and inequity.

As a diversity and inclusion professional, Rush has developed a significant track record of transformational contributions toward organizational equity, diversity, and inclusion goals. His efforts revolve around holistically binding organizational pursuits of excellence with diversity and inclusion efforts. His wealth of professional experience and volunteer involvement on the boards of numerous organizations have earned him a reputation as a practitioner able to build and sustain real and lasting change. Rush brings more than a decade of experience in the field of diversity, equity, and inclusion to Loudoun County.

Rush holds a bachelor's degree in business administration from Shenandoah University and master's degrees in business administration and educational leadership from Shenandoah University. He is also a Certified Diversity Professional and is currently a candidate for a doctorate in public administration from Liberty University.

Sarah Coyle Etro, AICP recently served as the project manager of Loudoun County's Unmet Housing Needs Strategic Plan. The Board of Supervisors directed that the Plan be drafted as a key implementation step of the recently adopted 2019 General Plan.

The Plan will drive the solutions to address the County's unmet housing needs developed through a strategic planning process. The Board adopted (7-0-2) the Plan on September 8, 2021.
Sarah also serves as the County's first Housing Coordinator, leading the newly established Office of Housing, overseeing many housing programs including the County's multi-family development loan program. Sarah has an undergraduate degree in Sociology from Washington College and a Master's degree in Urban and Regional Planning from Virginia Tech.