Q3 2021: Market Indicators Report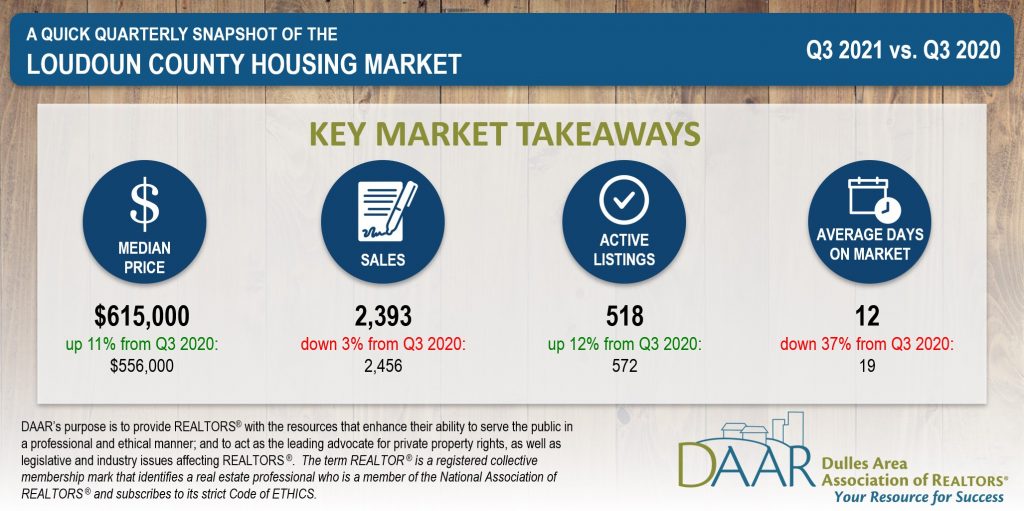 Click here for the full Q3 2021 Loudoun County Market Indicators Report for the Dulles Area Association of REALTORS® by Virginia REALTORS®. 
Click here to download supporting graphics.
Key Market Takeaways
Economic Conditions
In the third quarter of 2021, while economic conditions remained positive, there was a slowdown
in job growth in Virginia. The unemployment picture continued to be positive in Loudoun County. Regional economic conditions should improve further over the next few months.
Consumer confidence has fallen amidst renewed uncertainties about the Delta variant.
Individuals, families, and businesses have been rethinking plans that seemed more certain earlier this year.

Mortgage rates remain at historically low levels, but an improving economy will lead to moderate increases in the average 30-year fixed-rate mortgage rate.
Housing Market Conditions
There were 2,393 sales in the Loudoun County housing market during the third quarter, a 3% decline from a year ago.

Home prices continued to climb throughout the county. The third quarter median sales price was
$615,000, which is 11% higher than a year ago, a gain of $59,000.
For the first time in more than five years, supply in Loudoun County increased from the prior
year, though inventory remains tight. There were 518 active listings on the market in the county
at the end of the third quarter, a 12% increase from last year.

Want to share on your social media pages?
Click a platform below to share!