November 2021: Market Indicators Report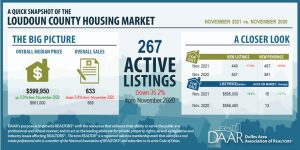 Click here for the full November 2021 Loudoun County Market Indicators Report for the Dulles Area Association of REALTORS® by Virginia REALTORS®.
Note: Townhome data definitions in the report have been changed to where all townhomes are now reflected in the "Townhome & Condo" data. 
Key Market Trends
Sales activity continues to slow down in Loudoun County compared to last year's very active market.
There were 633 sales in the county in November, 36 fewer sales than last year, which is a 5.4% decline. Year-over-year sales have declined for four out of the last five months. Most local markets had a slowdown in sales in November. The sharpest drop occurred in Purcellville zip code 20132 (-36.8%), Lovettsville zip code 20180 (-33.3%), and Aldie zip code 20105 (-24.6%). Some local markets, such as Ashburn, continue to have sales growth including zip code 20148 (+38.2%) and zip code 20147 (+11.2%).
Pending sales down from last November, sharpest drop since the start of the pandemic.
There were 467 pending sales in Loudoun County in November, 114 fewer than a year ago, representing a 19.6% decrease. Pending sales in Loudoun County have been slowing down since the summer. The largest drop this month was in Aldie zip code 20105 (-46.3%), Leesburg zip code 20176 (-41.6%), and Chantilly zip code 20152 (-38.3%). Sterling zip code 20164 had seven more pending sales than a year ago (+14%).
Home prices continue to rise amid market slowdown.
At $599,950, the November median sales price in Loudoun County rose 6.9% from last year, which is a gain of nearly $39,000. Price growth continues to occur in most local markets in the county. The largest median price growth this month was in Chantilly zip code 20152 (+21.1%),
Ashburn zip code 20148 (+15.7%), and Purcellville zip code 20132 (+14.1%).
Supply in the Loudoun County market is tight and shrinking.
There were just 267 active listings in Loudoun County at the end of November, 145 fewer listings than a year ago, which is a 35.2% drop. There were 449 new listings in the county this
month, 98 fewer than last November, a 17.9% decline.
Visit our Market Reports Library; there you'll find Legacy Reports of Loudoun County housing statistics since 2000, including sales price by month.
We hope that you find this information useful.  If you have any questions, please reach out to info@dullesarea.com.