DAAR Announces 2022 Emerging Leaders Scholarship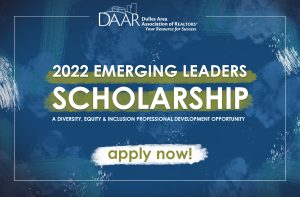 What Is The Scholarship? 
Established by DAAR's Diversity and Housing Initiatives (DHI) Committee, the 2022 Emerging Leaders Scholarship will be awarded to a REALTOR® member who would like to attend Virginia REALTORS®' (VAR) annual convention in Richmond from September 20-22, 2022, and elevate their leadership skills within the industry.
The recipient will be reimbursed for the full cost of attendance (up to $1,000 value) including hotel, registration, and travel.
Who Can Apply? 
Women, people of color, LGBTQ+ people, people with disabilities, and individuals of all backgrounds are strongly encouraged to apply. All DAAR members are eligible to submit an application if they are in good standing with the Association and have been a DAAR member for at least one year. 
When Is The Deadline To Apply?
DAAR will accept applications until May 31, 2022 at 4:30 p.m. ET.
Please note: Applicants may only be awarded the scholarship once. Applications will be reviewed anonymously as identifiable information will be redacted from applications prior to the DHI Committee's review. The application is subject to change and may be edited by DAAR's staff and/or the DHI Committee as needed.