March 2022: Market Indicators Report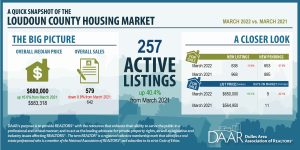 Click here for the full March 2022 Loudoun County Market Indicators Report for the Dulles Area Association of REALTORS® by Virginia REALTORS®.  
Key Market Trends
Sales activity in Loudoun County is cooling from last year's pace, though the market remains robust compared to typical March.
There were 579 sales in Loudoun County in March, 63 fewer sales than a year ago, which is a 9.8% decrease. Sales surged up 57.3% from last month (February), which is a typical seasonal change. The sharpest slowdowns this month at the local level were in Purcellville zip code 20132 (-45.9%) and Sterling zip code 20164 (-41.1%). There was an increase in sales in the other Sterling zip code, 20165, which had 15 more sales than last March, a 37.5% bump.
Pending sales way down across the county compared to a year ago.
There were 653 pending sales in Loudoun County in March, 242 fewer pending sales than last year, which is a 27.0% drop. The Ashburn market had the largest slowdown this month. Ashburn zip code 20147 had 50 fewer pending sales (-34.7%), and Ashburn zip code 20148 had 45 fewer pending sales compared to last March (-30.4%). Aldie zip code 20105 also had a large drop off, with 35 fewer pending sales than a year ago (-42.7%).
Despite the slowdown in sales, prices continue to climb rapidly throughout the county.
The median sales price in Loudoun County was $680,000 in March, surging up nearly $97,000 from last year, which is a 16.6% jump. Nearly all local markets in the county continue to have very strong price growth. The largest median price jumps this month were in Purcellville zip code 20132 (+36.6%), Lovettsville zip code 20180 (+35.3%), and Sterling zip code 20165 (+31.7%).
Inventory builds up this month, but overall supply remains tight.
There were 257 active listings in Loudoun County at the end of March, 74 more listings than a year ago, which is a 40.4% jump in supply. This is the largest influx of listings in the county's housing market since October of 2019. Most of the additional listings were in Ashburn zip code 20148 (+109.1%).
Data Note: The housing market data for all jurisdictions in Virginia was re-benchmarked in November 2021. Please note that Market Indicator Reports released prior to November 2021 were produced using the prior data vintage and may not tie to reports that use the current data set for some metrics. We recommend using the current reports for historical comparative analysis.