Q3 2022: Market Indicators Report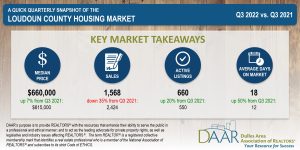 Click here for the full Q3 2022 Loudoun County Market Indicators Report for the Dulles Area Association of REALTORS® by Virginia REALTORS®. 
Click here to download supporting graphics. 
Key Market Takeaways
Economic Conditions
Virginia's job market continues to expand. The state added 16,700 jobs between July and August and is now only about 5,300 jobs short of pre-pandemic levels. Most of the growth continues to be in the Leisure and Hospitality sector.

The unemployment rate remains very low. In August, the unemployment rate was 3.2% in Virginia and was 2.6% in Loudoun County. Both are down from a year ago.

Mortgage rates climbed rapidly over the past month. In the second week of October, the average rate on a 30-year fixed mortgage rose to 6.92%, up from 6.02% a month ago.
Housing Market Conditions
There were 1,568 home sales in Loudoun County during the third quarter of 2022. This is 856 fewer sales than this time last year, which is a 35% drop. The housing market has been slowing down in the county for five straight quarters.

Home prices continue to climb across the county. The third quarter median sales price in Loudoun County was $660,000, rising 7% from a year ago, which is a $45,000 gain.

Inventory continues to build up in the Loudoun County housing market. There were 660 active listings on the market at the end of the third quarter, 110 more listings than a year ago, a 20% increase.