DAAR Announces 2023 Ignite Inclusion Scholarship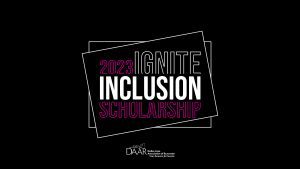 *Applications Are Now Closed*
Are you or do you know a REALTOR® breaking barriers in the world of DEI and real estate? DAAR's Diversity and Housing Initiatives (DHI) Committee is currently seeking nominations and/or applicants for the 2023 Ignite Inclusion Scholarship.
The scholarship aims to recognize REALTORS® working to cultivate inclusivity in real estate and offer the opportunity to strengthen their leadership skills while growing their network. The recipient will receive funds to attend the Virginia REALTORS® or National Association of REALTORS® annual convention, and will be reimbursed for the cost of attendance (up to $1,000 value) including hotel, registration and travel.
Women, people of color, LGBTQ+ people, individuals with disabilities, other REALTORS® from various walks of life, or those working to cultivate inclusion in real estate are strongly encouraged to apply.
DAAR will accept applications until May 31, 2023 at 4:30 p.m. ET.
Please note: Applicants may only be awarded the scholarship once. Applications will be reviewed anonymously as identifiable information will be redacted from applications prior to the DHI Committee's review. The application is subject to change and may be edited by DAAR's staff and/or the DHI Committee as needed.