Q1 2023: Market Indicators Report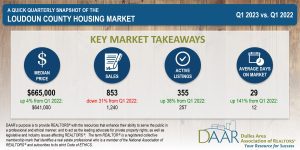 Click here for the full Q1 2023 Loudoun County Market Indicators Report for the Dulles Area Association of REALTORS® by Virginia REALTORS®. 
Click here to download supporting graphics. 
Key Market Takeaways
Economic Conditions
There were about 3,200 jobs added to Virginia's economy between January and February 2023. Most regions around the Commonwealth have now fully recovered net jobs lost in the spring of 2020.

Virginia's unemployment rate was 2.9% in February 2023 (not seasonally adjusted), which is up from 2.7% a year ago. The unemployment rate continues to be historically low, but has started to inch up, rising three of the last four months. In Loudoun County, the unemployment rate was 2.4% in February, up from 2.3% a year ago.

Mortgage rates have been volatile since initially falling in January, then rising for five straight weeks, and then falling again for five straight weeks. In the third week of April 2023, the average rate on a 30-year fixed mortgage was 6.39%.
Housing Market Conditions
The 2023 housing market is off to a slow start in the county. There were 853 homes sold in total across Loudoun County in the first quarter of 2023, down 31% from last year, the lowest first quarter sales total in more than a decade.

The first quarter median sales price in the Loudoun County housing market was $665,000. This is $24,000 higher than it was a year ago, a 4% price jump.

The supply of active listings continues to build up in Loudoun County. There were 355 active listings on the market at the end of the first quarter countywide, 98 more listings than a year ago, a 38% increase.