DAAR to Host Red, White and Bluemont RPAC Event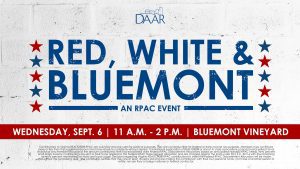 Calling all wine enthusiasts!
You're invited to join DAAR for its Red, White & Bluemont event at Bluemont Vineyard on Sept. 6, 2023 from 11 a.m. to 2 p.m. All registration fees will directly benefit the REALTORS® Political Action Committee (RPAC). Attendees can look forward to networking with peers and exceptional guests.
With this year's election quickly approaching, your contributions to RPAC are more important than ever in order to ensure that pro-REALTOR® candidates are elected to protect your business and the clients you serve. 
The registration fee (an $80 RPAC contribution per person in your name) includes:
Wine tasting

Sommelier-guided experience

Lunch

Access to the grounds

And a free RPAC gift!

This is a family event, so please feel free to invite your family members, friends, or clients (ages 21 and up). As your NRDS number is required for ticket purchases, REALTORS® must be the one to buy the tickets.

Thank You to Our Sponsors:
Aimee Waltz
Ameris Bank Mortgage Services

Martha Looney
Looney's Tile & Grout

Peter Mysek
Star Moving Solutions
Contributions to Virginia REALTORS® RPAC are voluntary and are used for political purposes; they are not deductible for federal or state income tax purposes. Members may contribute more or less than the suggested amount and may refuse to contribute without reprisal. The National Association of REALTORS® or any of its state associations or local boards will not favor or disfavor any member because of the amount contributed. NAR has established state Federal RPAC Disbursement Allocations based on anticipated National RPAC needs. Thirty percent of all Major Investor contributions are sent to NAR to be applied to the Federal RPAC Disbursement Allocation and are charged against the limits under 52 U.S.C. 30116 with the remaining seventy percent maintained for state and local usage. Decisions regarding Virginia REALTORS® RPAC contributions to meet the Federal RPAC Disbursement Allocation will be made throughout the fundraising year. The contributor certifies that they are at least 18 years old and are making this contribution with their own personal funds- not those of another person or entity, nor are they a foreign national or federal contractor.