June 2023: Market Indicators Report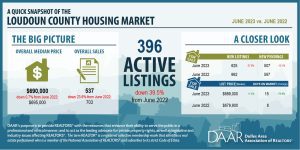 Click here for the full June  2023 Loudoun County Market Indicators Report for the Dulles Area Association of REALTORS® by Virginia REALTORS®.
Key Market Trends
Sales activity continues to cool in the Loudoun County housing market.
There were 537 home sales in the month of June countywide, 166 fewer sales than the same time last year, falling by 23.6%. The markets with the sharpest drop in sales were Chantilly zip code 20152 with 27 fewer sales (-40.9%) and Ashburn zip code 20147 down 27 sales (-23.1%). Lovettsville zip code 20180 saw sales go up this month with two additional sales (+33.3%), the only local market with an uptick.

In Loudoun County, the number of pending sales slowed this month.
There were 507 pending sales in June in the county, 90 fewer pending sales compared to the previous year, declining by 15.1%. Ashburn zip code 20147 had the biggest drop in sales with 51 fewer pending sales than the previous year (-43.2%). Pending sales were up in Lovettsville zip code 20180 with five more pending sales than the year before (+83.3%).

The countywide median sales price dipped slightly in June.
The median price of a home was $690,000 this month in Loudoun County, $5,000 less than a year ago, a modest 0.7% decline. Prices jumped in Lovettsville zip code 20180 (+23.3%) and in Leesburg zip code 20176 (+9.2%). Purcellville zip code 20132 saw home prices fall the most in June (-6.8%). The median sales price in Ashburn zip code 20148 dropped 5.4% from last June to $794,950.

The supply of listings in Loudoun County is shrinking again.
There were 396 active listings on the market at the end of June, a 39.5% reduction or 259 fewer listings than a year earlier. New listings in the county dropped 37% from last June. Active listings were down in Ashburn zip code 20148 with 46 fewer active listings (-35.9%) and in Aldie zip code 20105 with 44 fewer listings compared to the same time last June (-55.7%).

Data Note: The housing market data for all jurisdictions in Virginia was re-benchmarked in November 2021. Please note that Market Indicator Reports released prior to November 2021 were produced using the prior data vintage and may not tie to reports that use the current data set for some metrics. We recommend using the current reports for historical comparative analysis.