Q2 2023: Market Indicators Report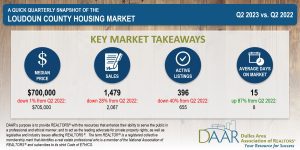 Click here for the full Q2 2023 Loudoun County Market Indicators Report for the Dulles Area Association of REALTORS® by Virginia REALTORS®. 
Click here to download supporting graphics. 
Key Market Takeaways
Economic Conditions
Virginia's job base continues to expand, which generates demand for housing. There were approximately 6,900 jobs added to Virginia's economy between April and May 2023.

The statewide unemployment rate in Virginia was 2.7% in May 2023 (not seasonally adjusted), which is down from 2.9% a year ago. In Loudoun County, the unemployment rate was 2.4% in May, down from 2.5% a year ago.

Mortgage rates continue to fluctuate widely. In the third week of July 2023, the average rate on a 30-year fixed mortgage was 6.78%, which is down from 6.96% the week prior.
Housing Market Conditions
Sales activity continues to trend slower than last year in the Loudoun County housing market. There were 1,479 homes sold across the county in the second quarter, down 28% from last year.

The median sales price inched down 1% in Loudoun County in the second quarter to $700,000, a $5,000 drop. While the countywide median price dipped, prices in the local markets continued to climb this quarter.

There were 396 active listings on the market in Loudoun County at the end of the second quarter, 259 fewer listings than a year ago, which is a 40% drop. This is the first time that active listings have declined in the county since the fall of 2021.