Sponsorship Guide
Dulles Area Association of REALTORS® (DAAR) was founded in 1962 and representing over 1,300 REALTORS® and real estate service providers, DAAR works to support the business of real estate, our members, and the communities we serve with the highest standards of conduct and professionalism.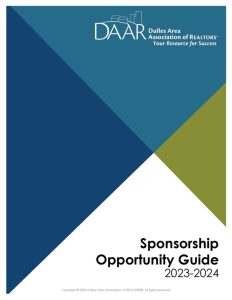 DAAR Sponsorship Opportunities
With more than 1,300 members, DAAR is one of the largest trade Association in Loudoun County. We are a network of successful professionals supporting businesses like yours for over 50 years. DAAR offers an environment in which you can develop lasting relationships that can have a positive impact on the growth of your company.
Whether you're looking to reach a specific segment of the REALTOR® community, such as broker-owners or newly licensed agents, or want to build brand awareness through increased visibility over a multi-month or annual period, DAAR has a variety of media-based and in-person marketing opportunities available to assist you in reaching your business goals.
Check out the Sponsorship Opportunity Guide and upgrade your Affiliate status!