Turn the Tide: Tell Congress to Reauthorize the NFIP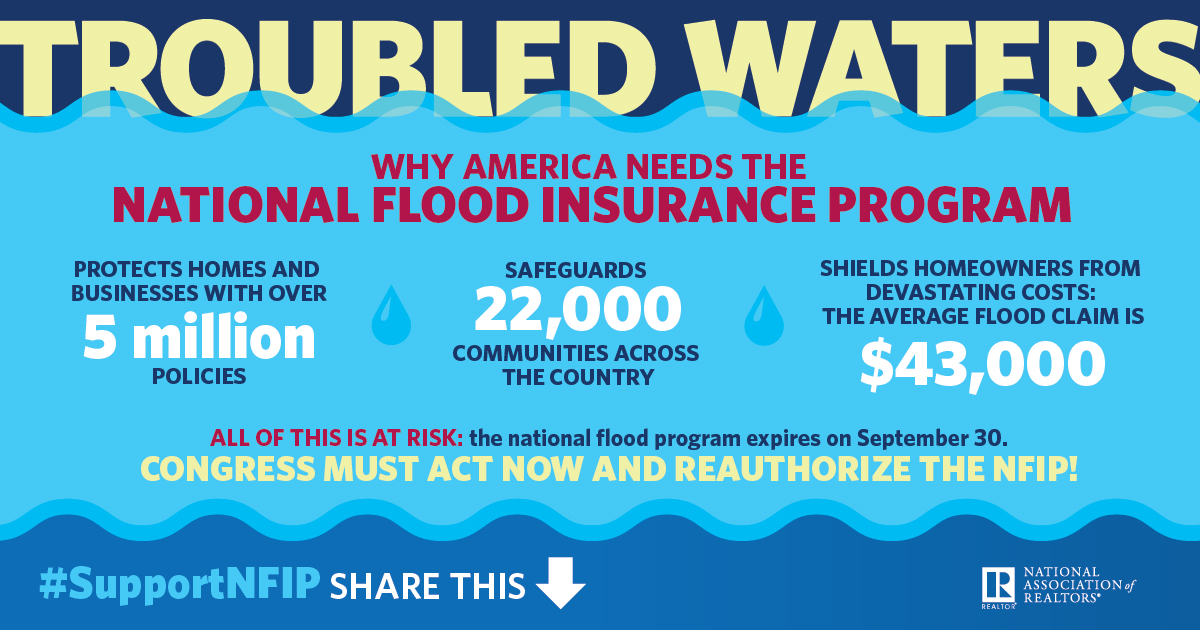 Please take action and tell your Member of Congress that the National Association of REALTORS® (NAR) supports H.R. 2874, "The 21st Century Flood Reform Act."
The Problem: The National Flood Insurance Program (NFIP) is scheduled to expire on September 30, 2017. Millions of home and small business owners in more than 20,000 communities nationwide require flood insurance. Without NFIP reauthorization, they will not be able to obtain insurance to protect their property against flooding! If the NFIP lapses, there will be 1,400 delayed or cancelled transactions every day.
The Solution: Urge Members of Congress to pass "The 21st Century Flood Reform Act." H.R. 2874 reauthorizes and makes a number of critical improvements to the NFIP, including increased funds for mitigation activities, caps on overall premium increases, improved claim and mapping processes, as well as removing hurdles for more private market participation in the flood insurance market.
On Wednesday, August 23, 2017, NAR launched a Call For Action to all REALTORS® to take action with as many messages as possible urging Members of Congress to support H.R. 2874, "The 21st Century Flood Reform Act." You may join with your fellow REALTORS® in several ways:
Send a message through NAR's REALTOR® Party Mobile Alert. If you haven't already, sign up for the REALTOR® Party Mobile Alerts by texting the word REALTOR to 30644 or signing up online.
Send a message through NAR's Call For Action website.
Write a letter to your Member of Congress. NAR's Call For Action website includes the text of your message!
Take Action – Be the Voice of REALTORS® on Capitol Hill!
Questions: Contact Brenda Morton, Government Affairs and Communications Manager, at (571) 291-9804 or bmorton@dullesarea.com.