DAAR CE Shop Offering 40% Online Classes on 11/24 and 11/27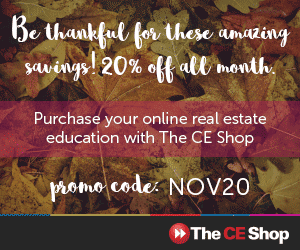 DAAR REALTOR Members! Purchase your real estate education with The CE Shop throughout November and receive 20% off.  Purchase on November 24th or 27th and receive 40% off sitewide!
This discount applies to all courses and packages including pre-licensing, post-licensing and continuing education.  Click here to take advantage of these offers!  Use promo code NOV20 for all of November and BLACKFRIDAY on 11/24 or CYBERMONDAY on 11/27 to save!