Call for Action – NAR Opposes the Final Tax Reform Bill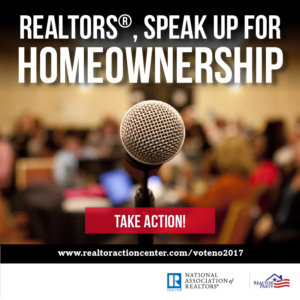 A new Call for Action launched on Monday, December 4. Join with NAR in opposing the Conference Committee Report when it comes up for a vote in both the House and Senate! Tell your members of Congress that incentives for homeownership and the capital gains tax exclusion on the sale of a home MUST be protected.
The U.S. Senate passed its tax reform bill on Saturday, December 2. As you know, the House passed its own version on November 16. Now the two chambers must agree on a final bill.  It's not too late for your voice to be heard. Contact your members of Congress via the NAR Call for Action. If you haven't already signed up to receive CFAs:
Sign up for the REALTOR® Party Mobile Alerts by texting the word REALTOR to 30644 or sign up online.
Send a message through NAR's Call For Action website.
The Senate version would make up to $10,000 in property taxes deductible, bringing it in alignment with the House version. One difference between the two bills is that the Senate version retains the deductibility of mortgage interest payments on up to $1 million of indebtedness; the House version caps indebtedness at $500,000. Read more about the tax reform bills: https://www.nar.realtor/tax-reform
Take Action – Be the Voice of REALTORS® on Capitol Hill!
Questions: Contact Brenda Morton, Government Affairs and Communications Manager, at (571) 291-9804 or bmorton@dullesarea.com.