Weigh in on the Future of Housing Near the Loudoun Gateway Station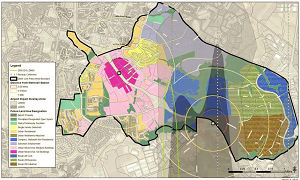 One of the primary reasons why Loudoun County has not planned new housing developments close to the future Loudoun Gateway Station (Route 606) is because of aircraft noise. The limitation of housing near the Loudoun Gateway Station is based in part on a twenty-year old Airport noise study, the 1995 noise contour lines, and a 2005 Environmental Impact Statement. On October 12, 2016, DAAR recommended that a new noise study be commissioned. Now, nearly 25 years later, a new noise study is being conducted and the noise contour maps will be updated!
The public is invited to learn more about airport noise and provide comments or questions to the Metropolitan Washington Airports Authority (MWAA). MWAA is hosting two public workshops and you may speak directly with experts involved in the effort.
Wednesday, June 27, 2018
6:00 – 8:00 pm
Washington Dulles International Airport Office Building
45045 Aviation Drive
2nd Floor Conference Room
Sterling, VA
Thursday, June 28, 2018
6:00 – 8:00 pm
Rock Ridge High School Cafeteria
43460 Loudoun Reserve Drive
Ashburn, VA
A second round of Public Workshops will occur in November 2018 and MWAA anticipates issuing a final report in February 2019. You may submit questions or comments at any time directly to DullesInternationalNoiseContourMapUpdate@MWAA.com
Visit flydulles.com/iad/dulles-international-noise-contour-map-update for more information.