REALTOR Safety Tip: Showing Strategies 101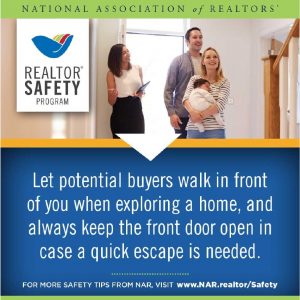 When showing a home, always have your prospect walk in front of you. Don't lead them, but rather, direct them from a position slightly behind them. You can gesture for them to go ahead of you and say, for example, "The master suite is in the back of the house."
Visit NAR's REALTOR® Safety Web site at www.REALTOR.org/Safety for more information.
Don't forget to register for DAAR's Safety Does Matter! on Monday, September 24th, 10AM-12PM featuring Deputy Ethan Martin and instructor Allan Marteney who will help you quickly assess a potentially dangerous situation and take appropriate action; understand your exposure to risk as well as effectively follow safety best practices when showing property, conducting an open house, working in the office, and driving alone or with clients or customers.
FREE for DAAR Members/$20 Non-Members.  Registration includes lunch and materials.  Sign-up online today!