September 2018 Loudoun County Market Trends Report: Inventory continues to tighten as prices increase and closed sales decline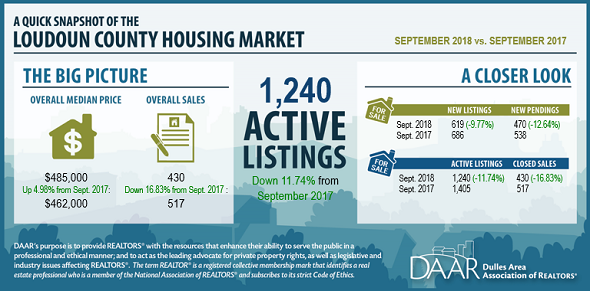 Overview
Continuing the recent trend, inventory in Loudoun County tightens further. There were 1,240 active listings in September, the fewest September listings in over a decade.
Monthly active listings have continued their decline from the same month the year prior since July 2015.
Likely a signal that inventory will tighten even further, new listings declined 24.7 percent from the month prior and 9.8 percent from September 2017. The 619 new listings in September were 14.0 percent below the September 5-year average.
As a result of the tight inventory, sellers in Loudoun county only closed 430 sales in September, 16.8 percent fewer than in September 2017. The decline in September closed sales from the year prior was the largest year-over-year decline since November 2013 (-23.5 percent).
The decline in closed sales was led by fewer sales of detached homes and townhomes, which decreased 19.1 percent and 20.1 percent from September 2017 respectively. Sales closed on condos increased a modest 1.5 percent in September from the same month last year.
Closed sales are likely to remain depressed as new pending sales have also declined. There were 470 new pending sales in September, 12.6 percent fewer than in September 2017 and 4.3 percent fewer than the September 5-year average.
The low inventory resulted in median sales prices to increase and the share of the original list price received to increase. The Loudoun County median sales price increased to $485,000 in September, the highest September price in over a decade. Sellers received 98.2 percent of their original list price, 0.8 percentage points higher than the September 5-year average.
For more information, read the full report.