Above Board: Community Service Committee's Growing Impact in Loudoun and Beyond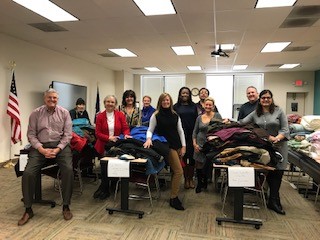 The Dulles Area Association of REALTORS®, founded in 1962 and serving over 1,400 REALTOR® and Affiliate members, works to safeguard and advance the mutual interests of the public, property owners, and real estate professionals for real estate-related matters. DAAR has donated over $300,000 to local charities since 1992 and looks forward to continuing this tradition of giving back to the community.
In 2018 DAAR's Community Service Committee, led by Chair Brenda MacEoin, exceeded yearly targets for volunteering efforts.  It has been a very busy year and this committee has gone above and beyond!
February 17-19, 2018
Members of the Dulles Area Association of REALTORS® (DAAR) demonstrated their commitment to community service by lending their time and talents to helping transform Leesburg's Loudoun Abused Women's Shelter (LAWS). Almost 50 DAAR members and their families and friends participated in a three-day painting event. Combined, they provided almost 300 painting hours.
LAWS, founded in 1984, provides counseling, advocacy, support groups, legal services, emergency shelter, and support to victims of domestic and sexual violence completely free of charge. Over 1,000 clients came into their offices last year to meet with attorneys and counselors. However, the offices haven't received a fresh coat of paint since the year 2000.
DAAR sponsors and supporters made this three-day event a success. Thank you to Vini Short and DeShong's Gift Back for providing paint and other supplies, Debbie Hafer of JK Moving Services for providing lunch and refreshments, Rick Hafer of Home Renovation for his assistance and insights, and Dunkin' Donuts in Purcellville for providing breakfast treats!
September – November 2018
The 2018 Winter Warmth cold weather clothing and blanket drive organized by the Community Service Committee was a great success! The Community Service Committee collected and distributed 20 huge bags of clothing, sheets and blankets to Mobile Hope, LAWS and The Loudoun Cold Weather Shelter. These donations will help keep many individuals and families warm during this cold winter.
October 4, 2018
Over 65 REALTORS® and guests gathered at Dog Money Restaurant & Brewery in Leesburg, VA for DAAR's Fall Mix and Mingle and Silent Auction. The networking event was held to help raise money in support of DeShong's Gift Back, a local charity in Loudoun County.
Auction items were donated by area businesses and were procured by DAAR's Community Service Committee members. These items included golf foursomes, Loudoun County adventures, interior design and staging services, photography packages, and so much more.  The Silent Auction and 50/50 raffle helped raise over $2,500 for DeShong's Gift Back Home Repair Project.
November – December 2018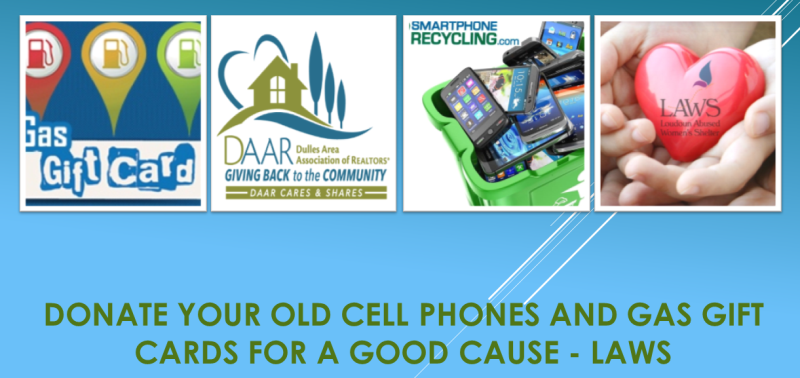 The DAAR Community Service Committee is supporting LAWS as this year ends.  They are in need of your help collecting gas station gift cards and old cell phone donations.
Donating your used cell phone or tablet is a great way to support a charitable cause. DAAR is collecting your used devices and turning them into something good. We will collect your old devices as donations and send them to be recycled.  The company, Smart Phone Recycling, will recycle the phones and send all proceeds directly to LAWS.
We are collecting gift cards to gas stations as well.  These cards can help provide transportation for women in the shelter to the LAWS main office, to a job interview or to an appointment that is needed for their children. Any denomination of gift card or financial contribution is welcome!
Donations will be accepted at the DAAR office through December 21st.
A big "thank you" goes out to all of our members that participated!
If you are interested in getting involved and making a difference, please complete the online committee sign-up form or contact Membership Services membersvc@dullesarea.com.