January 2019 Loudoun County Market Trends Report: Inventory Tightest in Over a Decade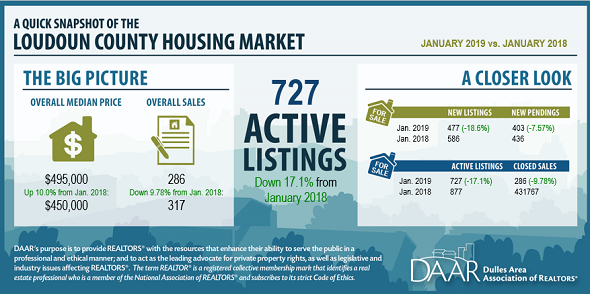 Overview
Active listings in Loudoun County reached a decade low in January after declining 17.1 percent from January 2018 to just 727 homes in January 2019.
The number of active listings in January was the fewest active listings of any month over the past ten years.
Active listings in January declined among all home types and in five of the seven zip codes with 20 or more sales in January.
The decade-low inventory experienced for the past three months has resulted in a continued decline in the number of closed sales, which declined 9.8 percent from January 2018 to January 2019.
There were only 286 closed sales in Loudoun County in January, the fewest closed sales since January 2015.
The number of closed sales is unlikely to rise in the coming months as the number of new pending sales has also continued to decline; the number of January new pending sales declined for the second consecutive year.
Furthermore, inventory is unlikely to grow; the number of new listings declined 18.6 percent from 586 in January 2018 to 477 in January 2019.
Tight inventory has coincided with the median sales price of homes sold in the county increasing 10.0 percent from $450,000 in January 2018 to $495,000 in January 2019.
The median sales price of sold homes in January was the highest January median sales price of sold homes in over a decade.
Sellers are also selling their homes faster and for nearly full asking price. In January, the median DOM continued decreasing and the SP to OLP ratio continued increasing.
For more information, read the full report.