Update on Requested Changes and Known Issues with Bright MLS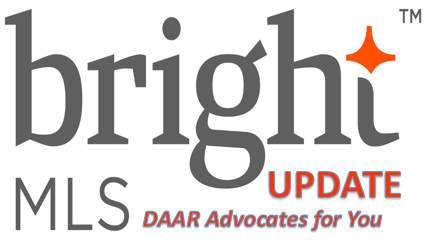 The lists below are key requests and known issues that have been found in Bright MLS within the last few months as of March 26th, 2019.  It is not an exhaustive list.  Bright MLS prioritizes each item and provided timeframes for when each change will be completed. These are noted in the following ways:
30: Within 30 days

60: Within 60 days

Q2/Q3: Planned for 2nd or 3rd Quarter.

Corrected: Items that have been recently addressed or corrected.  View all of our recent updates and corrections here.

Suggestions under consideration: Items being considered by our product teams.

NP: Request noted, no plan to add at this time.
Known Issues
We are aware of and working to fix the following issues.
Listing Management:
Corrected Unable to add an alphanumeric Unit Number when performing a Tax Record search in Listing Management.

Corrected Lot Size Dimensions and Land Use Code not autofilling from the Tax Record.
Corrected Listings are being locked for longer than one hour
Corrected Correcting auto-population of square footage and lot dimensions (TREND footprint only)
Corrected Listings that are missing maps or are incorrectly mapped

30 Inability to publish listings due to errors that can't be resolved

Q2/Q3 Only the first Owner Name is auto-filling in Bright Public Records

Q2/Q3 When uploading photos from Safari, the photos don't resize and auto crop to a zoomed upper right corner.

Q2/Q3 When entering an open house, the time in the listing management preview screen appears incorrect. However, the correct time is available in listing search.
Search:
Corrected Unable to sort by Occupant Type

Corrected Converted saved searches that contain MLS Numbers were not displaying correctly

30 Multiple spellings of city names (MRIS footprint)

30 Multiple spellings of subdivision names

Emails with directions showing an error when the link is clicked

The BCC'd version of an Auto Email includes other statuses or no listings all

When you sort Public Records comparables, the sort is not retained when you create, print or email the CMA

NP Some of the display fields cannot be sorted in Search, like Levels/Stories. The system can't sort when multiple selections are possible in Listing Management.
Listing Information:
Corrected The Broker of Record License number was incorrectly displaying the subscriptionID and has been fixed

Corrected The MLS numbers for the listings associated with the property are now sorted in chronological order on the 360 Reports.

30 License information not showing on all listings

Days on Market (DOM):

Corrected Remapping of MRIS CNTG/No KO to Pending

Corrected Listings that accumulated DOM in the Coming Soon status

30 Missing listing history that has created an extended DOM count
Reports and Exports:
Corrected Street Directional Prefix now displays/exports correctly on Mailing Labels

Corrected When looking at an individual office from the Agent or Office Directory of Search page, you are not able to sort the agents listed on the Our Agents Search page by First Name, Last Name or any of the column headers.

Corrected Exporting Mailing Labels was not including the Street Directional Prefix. For example, for 1009 S. 46th St Philadelphia, it was missing S.

Corrected On the Directions report, only the street address was displayed.
Client Portal:
When you click a listing from the auto email, you are not directed to that particular listing in the Client Portal.

Listings that were marked as Discard are showing as Favorites on the Recent Portal Visitors section of My Dashboard.
Public Records
Corrected Subdivision/Neighborhood search box is not filtering by the county included in search

Corrected House Model Name Field is incorrectly populated.

Corrected  Some listings are incorrectly linked to a different tax record

Corrected  Fix Owner Y/N Field. In some Virginia counties and appears as Owner N/Y

Corrected  Attic Square Ft. field not appearing

Corrected Fix the public record information to show the same data on the Agent 360 Listing Report as seen on the Agent 360 Public Record Report

30 Res Type in Arlington, VA is not populating correctly

30 Add a unit number field to Owner Mailing Address

30 Some county website links on reports do not link correctly

30 All Maryland townhouses were converted as End-Unit or End of Row/Townhouses

30 House Model Name Field is incorrectly labeled as Structure Type.

60 D.C. Parcel Layer Maps do not show the full information for properties adjacent to properties returned in search results

Q2/Q3 Some Sale/Owner Records are slow to appear
Financials:
Corrected A credit was switched to a charge and a charge to a credit on Seller Net Sheet reports that were emailed. They displayed correctly to the agent but were emailed out wrong.

Corrected When selecting the municipality of Tredyffrin Township, the transfer tax on both the Buyer Closing Costs and Seller Net Sheet show as 1.75. This value is incorrect and should show as 1.25.

Corrected When loading a Buyer Closing Cost with a dollar amount for a down payment, the Buyer Closing Cost loads it as 0.

Corrected When doing a Buyer Closing Cost, the FHA loan limit is 6%. We added an error message for users to not make a seller assist greater than 6%. However, when 6% is entered, the Buyer Closing Cost will not let the user continue.

Corrected Saved Buyers Closing Cost either do not load or load incorrect information on mobile devices and Mac OS.

Corrected When creating a Buyer Closing Cost or Seller Net Sheet, if you do not preview the report before emailing it, the email report link will not work.

Corrected NJ taxes are not prorating in the Buyer Closing Cost or Seller Net Sheet

Corrected Changing the Loan type clears out your preferences for certain fields.

Corrected Seller Net Sheet is not always retaining a change to the transfer tax.

Corrected Saved Deed or Mortgage recording amounts will appear on the Buyer Closing Cost when you start  from scratch. However, when you auto fill this information from a listing, the saved fees get replaced.

Corrected On Seller Net Sheet, Transfer Tax was not always populating to the report after an update or change was made.

Corrected When loading Buyer Closing Costs from a listing or parcel, a user's preferences for Deed and Mortgage Recording Fees were not populating and being overwritten by the county default values.

Corrected When a Loan Type is changed in Buyer Closing Costs, fields that don't apply to that loan type are hidden automatically. Any preference amounts that were set for one of these fields did not carry over.

Corrected The Reimbursements and Escrow sections of the Buyer Closing Costs were not calculating taxes properly for some properties in New Jersey.

Corrected When a Seller Net Sheet is created and emailed before previewing or saving it first, the email link was unable to be opened by the recipient.

Corrected On the Buyer Closing Costs and Seller Net Sheet, School District defaults to the first school district listed when there are multiple school districts in the selected municipality. This was an issue for Lancaster, as Conestoga School District is the first school district listed but over 90% of the properties in Lancaster City are in the Lancaster School District.

30 Not able to load a listing from Washington DC into the Buyer Closing Cost or Seller Net Sheet.

30 When going from a listing to a Buyer Closing Cost, the Condo/ HOA fee does not populate prorations.

60 On the Seller Net Sheet, when changing Zoom Level to 100% or lower, drop-down menu works. For anything over 100%, the drop-down menu doesn't work.

NP There is no option for Baltimore or Harford County (Maryland) municipalities in the SNS. However, individual municipality data in the Buyer Estimated Closing Costs and Seller Net Sheets can be found by searching under "unincorporated."
Support:
Corrected Extended wait times

Corrected Chat unavailable
Accounts:
Q2/Q3 "Act as" error message appears when you attempt to act as another subscriber from a page that does not support that functionality.

Updated license information not updating or appearing correctly on listings

Unable to edit or publish listings due to permissions and account issues

Agent's head shot is sometimes not getting updated on the right hand side corner.
Dashboard/Navigation:
Corrected Widgets don't appear in the Chrome browser unless you refresh the screen
Syndication/Other Tools:
Corrected Open Houses are not removed from Homesnap when a listing changes to an off-market status

Newly entered listings take a long time to appear in Showing Time
System availability
Ongoing Investigation Sporadic issues with subscribers who are unable to login

Ongoing Investigation Sometimes, subscribers need to clear their cache in order to use the system
Requested changes
The following changes have been requested and are scheduled or being considered by our product teams.
Listing Management:
Corrected The ability to search for public records unit number by letter when entering a new listing

Corrected Listing Alerts on the dashboard that notify agents when a change needs to be made

30 Emailed listing alerts that notify agents when a change needs to be made

30 Adding Pets Y/N field for Residential Sale listings

60 Allow listing agents to designate their RESL property is approved for section 8

Q2/Q3 More specific statuses and field options for Residential Lease listings

Q2/Q3 Provide fewer options for Property Conditions and also define them

Q2/Q3 Add the ability to copy a listing from residential sale to residential lease or other property types

Q2/Q3 Make improvements to the Profile Sheets and listing data refinement

Suggestions under consideration:

Adding a symbol on the Manage Listings screen to indicate when an open house has been entered for a listing

Adding the option to send a copy of the listing as it appears in the MLS to a seller to review before the listing goes live in the MLS

Remove the ability to have multiple people edit a draft listing at the same time

Adding a save button to the Listing Entry screen

Make the rents per unit a required field in multi-family listings

Add the Transportation field  (previously available in MRIS)

NP State and county identifiers not showing on older MLS numbers

NP Don't suppress fields until information is added. Subscribers find it hard to locate fields since they shift depending upon if info is added.
Search:
Corrected Age Field calculated based on subtracting the current year from  the year built

Corrected Directions are currently missing city/town name

Suggestions under consideration:

Adding the ability to search and select a school district on the map

Adding the ability to Identify which fields are required in Listing Management on the Search screen

Update the terminology on the search screen for Age Requirements since Age Requirements is frequently confused with Age/Year Built

Adding the ability to search by transportation

Moving last list price and number of beds/baths to the top of the search screen

NP Adding the ability to watch a listing
Reports and Exports:
Corrected Adding the labels "Agent" and "Client" to reports (not available on One-Page reports, as it would affect printing)

Corrected Adding subscriber number and broker code to the Full Reports

Corrected Make Gallery Report available for Residential Lease

Suggestions under consideration:

Adding the CMA Results Report (previously available in MRIS)

Adding the CMA Summary Screen (previously available in MRIS)

Adding the  9-Up Report (previously available in MRIS)

Moving list price next to sold price on listing reports

Adding a link to county GIS maps for listings and in public records

Adding the Equal Housing Opportunity (EHO) logo to reports and print outs

Adding the ability to view a client's portal favorites in their cart

NP Allowing subscribers to preview CMA pages

NP Printing from the map with individual layers (parcel layer, flood map, lot dimensions, drawn on map shapes, etc)

NP Adding directions to the One-Page Reports
Public Records:
30 Adding the ability to suppress Property Card #1 for residential properties in York and Adams counties, PA

30 Adding the ability to subtract Attached Garage Sq.ft from Above Grade Living Area in York county, PA

60 Making sure tax records include the information available from county data files

Q2/Q3 Displaying the front assessor photo first for properties in York and Adams counties, PA
Client Portal:
Suggestions under consideration:

Adding the ability for an agent to reply directly when a client sends an email through the Client Portal.

Adding property view count in Auto Emails
Statistics:
Market Statistics Report:

Q2/Q3 Adding the absorption rate to the report

Q2/Q3 Adding the ability to search by subdivision

Q2/Q3 Adding the Industry Watch Report from TREND
Dashboard/Navigation:
Suggestion under consideration:

Making the Search (Matrix) Dashboard more prominent
Accounts:
Corrected Adding Due Date on Bright billing emails

30 Allowing subscribers to change their login name

Suggestions under consideration:

Allowing for joint accounts for teams

Allowing for agents with multiple licenses to work through one login

Adding Office Managers to the Broker of Record on all listings and office information
To submit a technical issue or view the most recent news and updates about Bright MLS, visit the DAAR Bright MLS Resource page.