Full Package CE in April Focuses on Industry Leading Topics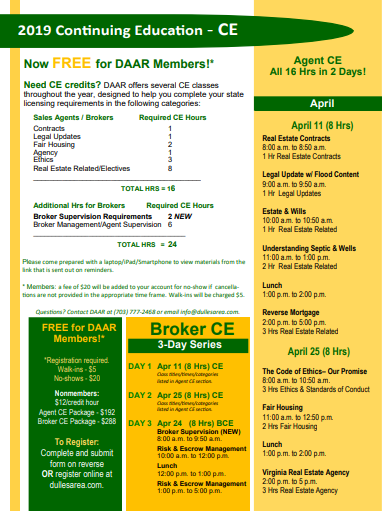 DAAR's Real Estate School is dedicated to meeting the needs of your professional development by offering more classes and seminars designed to give you the resources and knowledge to stay on top of your business.
DAAR is offering in-classroom industry leading CE courses designed to fulfill all 16 required hours within two days for Sales Agents and 24 required hours for brokers within three days.
Did we mention that it's free for members?  We're also throwing in lunch😊.
Click on the link for each class to register or fill out the registration page of the flyer and send to info@dullesarea.com.  Flyer
Continuing Education classes are FREE for DAAR members, but registration is required.*
*No-shows will be charged $20.
Member walk-ins will be charged $5
Questions?  Contact:
Teresa Kirkhart, CIPS, AHWD
PH:  571-291-9805
Email:  tkirkhart@dullesarea.com