In Memorium: Jerry Sardone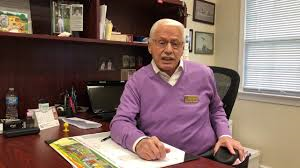 It is with deep sadness we inform you about the passing of Jerry Sardone on Thursday, May 21, 2020. Jerry was a member of DAAR for 51 years and was a DAAR REALTOR Emeritus.
Jerry served with honor on the Montgomery County Police Department in the late 1950's and the early 1960's as a member of the Bethesda (Second District) Traffic Squad. He left the department and found his calling in real estate and completed over 50 years in the business, earning the title Realtor, Emeritus. He helped people buy and sell real estate in Fairfax County and Loudoun County since 1968.
The family requests in lieu of flowers, that memorial donations can be made in Jerry's name to the Montgomery County Police Alumni Association, Inc. – Benevolent Fund, P.O.Box 431, Damascus, MD 20872-0431.