June 2020: Market Indicators Report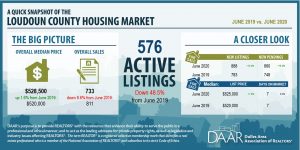 Click here for the full June 2020 Loudoun County Market Indicators Report or the Dulles Area Association of REALTORS® by Virginia REALTORS®.  DAAR has switched to VR as a new provider of the report after much consideration.
Key Market Trends
Closed sales continue to be lower than last year, 4th month in a row.
There were 733 closed sales in Loudoun County in June, 9.6% fewer than last
year, a drop of 78 sales. All of the declines this month occurred in the single family
detached market. There was a modest 2.4% uptick in townhome and
condo sales in June.
Pending sales are on the rise, signal for busy summer market. After
several slow months, pending sale activity surged in June in Loudoun County.
There were 860 pending sales, up 15% from last year, a reflection of the pent up
demand from the market slowdown caused by COVID-19.
Median sales price rises for the 15th consecutive month. At $528,500, the
June median sales price in Loudoun County increased 1.6% from a year ago.
Most of the price growth this month occurred in the single-family detached
market (+4.1%). The June median sales price is $82K higher than it was 5
years ago in the County.
Overall inventory continues to plummet but jump in new listings offers
hope for the buyer market. There were about half as many active listings at
the end of June as 12 months prior (-48.5%). However, new listings surged up
13.4% in June, a positive sign for the summer market.
Want to share on your social media pages?
Click a platform below to share!