August 2020: Market Indicators Report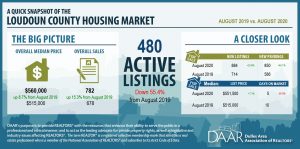 Click here for the full August 2020 Loudoun County Market Indicators Report or the Dulles Area Association of REALTORS® by Virginia REALTORS®.  DAAR has switched to VR as a new provider of the report after much consideration.
Key Market Trends
Home sales are surging in Loudoun County, driven by the single-family detached market.
The County's housing market continues to rebound from the sluggish 1st half of the year. There were 782 sales in August, a 15.3% jump from last year. Sales of single-family detached homes increased 19.1% in August, while sales of townhomes and condos declined 2.5%.
Potential for a busy fall market takes shape, with the largest spike in pending sales in over 6 years.
There were 850 pending sales in the Loudoun County housing market in August, a 45.1% surge from a year ago, an increase of 264. The increase occurred throughout the County, with all of the largest zip codes (by sales volume) having double-digit growth in pending sales this month.
Price levels continue to climb in the County's housing market.
At $560,000, the August median sales price in Loudoun County rose 8.7% from last year, a gain of $45,000. Price growth continues to occur across property types. The median sales price for single-family detached homes and townhomes/condos rose 5.7% and 7.0%, respectively, compared to a year ago.
Inventory levels remain very low, now less than 1 month of supply; however, an influx of new listings provides options for buyers.
There were 480 active listings on the market at the end of August in Loudoun County, less than half the level a year ago (-55.4%). New listings rose for the 3rd consecutive month, up 23.8%.

Want to share on your social media pages?
Click a platform below to share!