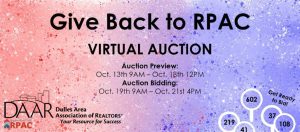 Auction Preview:
Oct. 13th 9AM – Oct. 18th 12PM
Auction Bidding:
Oct. 19th 9AM – Oct. 21st 4PM
2020 Auction Rules:
You may bid on multiple items; however, each person may win only one (1) auction item. If you are the highest bidder on more than one item, the item with your highest bid will be accepted. DAAR reserves the right to rescind your bid from other items beyond your highest and they will go to the next highest bidder.

Checkout will be processed immediately following the closing of bids. Payments will be processed  through a custom form using a secure site and payments will go directly to RPAC.

Arrangements will be made for picking up items at DAAR following the close of the auction on October 21, 2020.  Please try to pick up items within 5 business days of notification as the winning bidder. 
To celebrate the end of the auction, DAAR is hosting a golf event at Raspberry Falls Golf & Hunt Club on Oct 21, 2020.  Click for more information on the golf outing.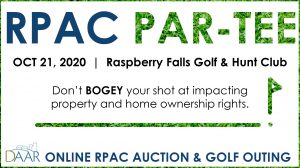 Contributions to Virginia REALTORS® RPAC are voluntary and are used for political purposes; they are not deductible for federal or state income tax purposes. Members may contribute more or less than the suggested amount and may refuse to contribute without reprisal. The National Association of REALTORS® or any of its state associations or local boards will not favor or disfavor any member because of the amount contributed. NAR has established state Federal RPAC Disbursement Allocations based on anticipated National RPAC needs. Thirty percent of all Major Investor contributions are sent to NAR to be applied to the Federal RPAC Disbursement Allocation and are charged against the limits under 52 U.S.C. 30116 with the remaining seventy percent maintained for state and local usage. Decisions regarding Virginia REALTORS® RPAC contributions to meet the Federal RPAC Disbursement Allocation will be made throughout the fundraising year. The contributor certifies that they are at least 18 years old and are making this contribution with their own personal funds- not those of another person or entity, nor are they a foreign national or federal contractor.